Customer Reviews
01/15/2020
Jacob W.
United States
Simple but good.
Construction seems decent. Would be nice if it had a small accessory pocket for the flash cards or other gear.
01/15/2020
Ryan B.
United States
Gig ready
My daughter loves the guitar, the app and gig bag she often wears around the house, backpack style between sessions. Well constructed and stylish. We adult-swim former rockers approve. Many thanks ye Loog
01/15/2020
MARCIA H.
United States
Great Bag
Fits nicely for the little rich star!
01/15/2020
Condy M.
United States
Excellent customer service
We got the pro electric guitar and then accidentally ordered the mini gig bag a few weeks before Christmas. When I realized this, I reached out through the website and had a response within minutes. They sent me a return label and put the right one in the mail the next day. I thought for sure I wasn't going to have the bag before Christmas when I realized my mistake but with their excellent customer service it arrived in time. The gig bag is perfect for holding the guitar too. 
01/10/2020
Corey D.
United States
My kiddo loves this thing.
I would post a picture if I could. First thing in the morning. First thing when I get home from work he goes over to his gig bag and asks me to help him play. I ignored the age 3 and up and got it for him when he's just 14 months and just supervise his play with it. Make sure he's seated and not banging it around. He seems super interested in playing with it. He has a guitar shaped rattle that he bangs around and brings to me when he wants to get out his Loog and Jam.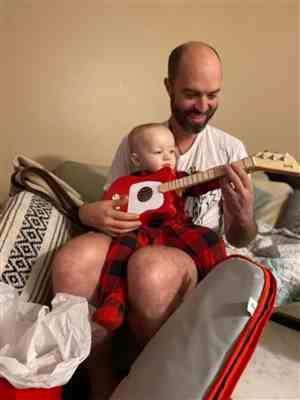 ---