Customer Reviews
01/15/2020
Brian K.
United States
Perfect for my beginner
My 7 year old son loves his new guitar and likes to show off how many notes he has memorized. Thanks Loog for making this awesome instrument even funner to learn then it already is!
01/15/2020
Brad S.
United States
Nice guitar for a kid
I was going to buy my 1yr old a ukulele for Christmas, but I wanted a decent one that could actually be tuned and played. My wife saw your product and I was sold right away. My son and I love the Loog mini, it is great. My one complaint is that you advertise 'perfect intonation', which simply isn't true. That said, it is an $80 guitar meant for kids and that's fine.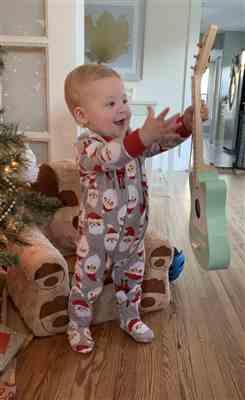 01/15/2020
Ian P.
United States
Mini Loog
Great quality guitar for our toddler and excellent customer service! Thanks Loog!
01/15/2020
Allison C.
United States
Perfect Size
She is a bit young for it yet, but it is the perfect size for her to hold while she explores how it works. In about 6 months it will be perfect (she will be 3 then)
01/15/2020
Richard D.
United States
Mr Destructo can't destruct this well designed instrument
Pros: For reference, I own $3k+ Gibson, Fender, and Martin guitars and I find that the Loog is very impressively well designed. It feel and sounds like an instrument and not a toy. Construction is solid. My 3 year old son (aka Mr Destructo) has dropped, thrown, and bumped his Loog all over the house and there isn't a mark on it, yet. Give Mr. Destructo some time and I'm sure he will ding it, but it has already proven itself to be quite durable. Price is reasonable for the quality. Size is perfect for my 3 year old and it even fits my 6 year old. I'm confident that anything and everything he learns on this can translate to a full sized guitar. Cons: It wasn't clear to me immediately that the strings were G to high E. When I picked it up to tune it, I started tuning the Loog as if it were low E to D. I shouldn't have been so excited to jump in and done my research first, but I think an insert quick-start guide might be helpful. Perhaps a silly error on my part. The lacquer smell was very overwhelming opening the guitar the first time. Being a guitar player, I love that smell of a new guitar... but my wife, not so much. Might be a good idea to let these air out a bit more before shipping since they are for kids and unknowing parents might have concerns over the 'chemical' smell. Conclusion: I very highly recommend the Loog for anyone who wants to introduce their young child to guitar and music without cheap toy instruments. My 3 year old loves it. He's still a bit too young to finger chords, but he's learning the proper way to hold the guitar, strum the guitar and pick individual strings. These are great first steps.
---